It's been about 4 months since I last updated this site and a bunch of stuff has happened.  Most notably, our pool was finished about a month ago.  We started the pool in early March and were originally quoted 2-3 months for completion; it ended up taking about 4 1/2 months until everything was done.  In the beginning, it was the effects of the coronavirus that slowed things down.  In the end, we were probably delayed somewhat by the fact that many more people, stuck at home, decided they wanted pools; our pool contractor got really busy with new pool installations.
We previously reported on the excavation, and steel (part 1 and part 2).  My last entry was on March 31 for the pool plumbing.  Since then, the pool has gone through the following phases.
Shotcrete (mid-April)
This was pretty amazing to watch.  The shoot in the concrete which is very sticky and sticks wherever it lands. Then they essentially sculpt the shape of the pool free form.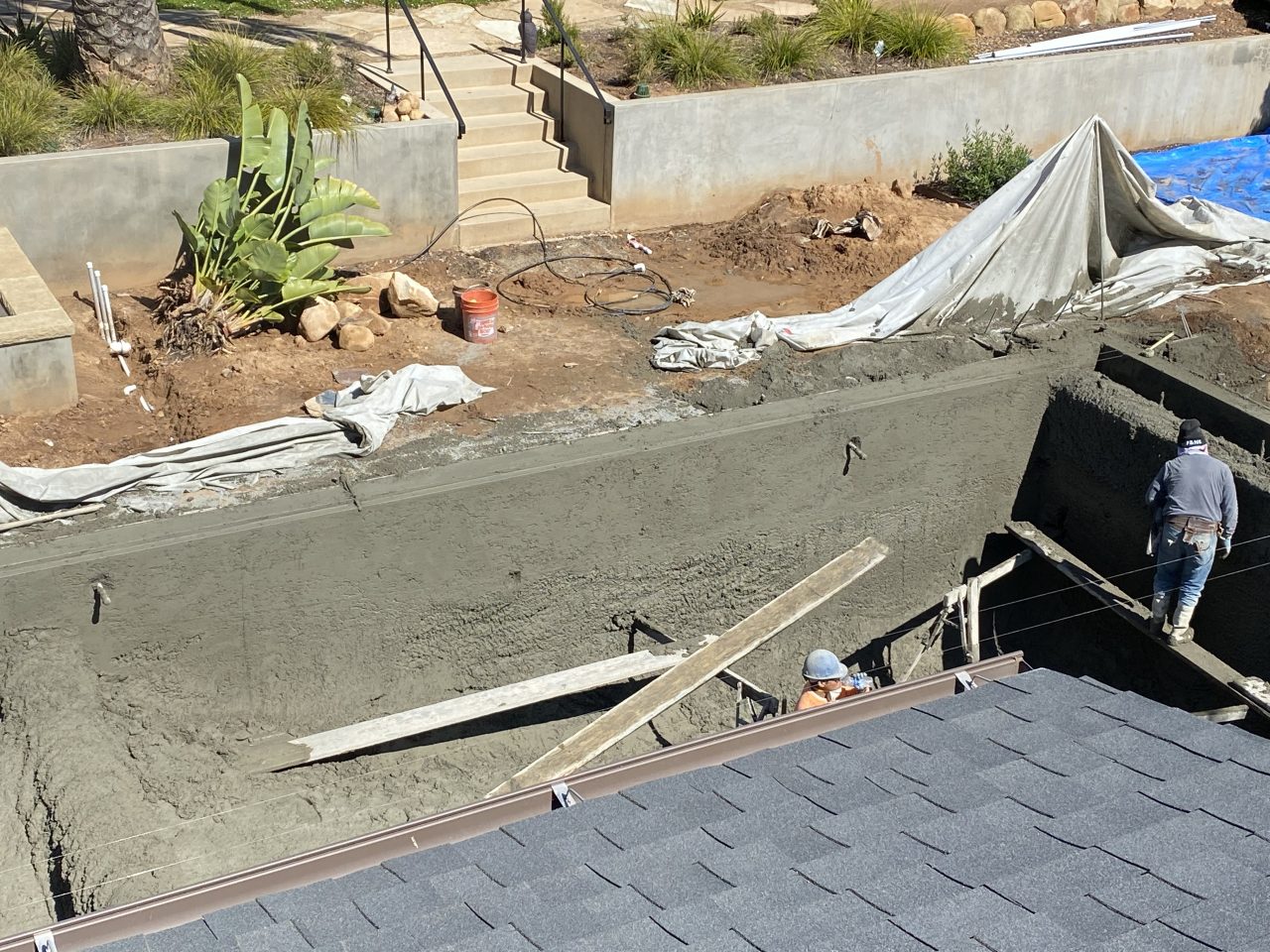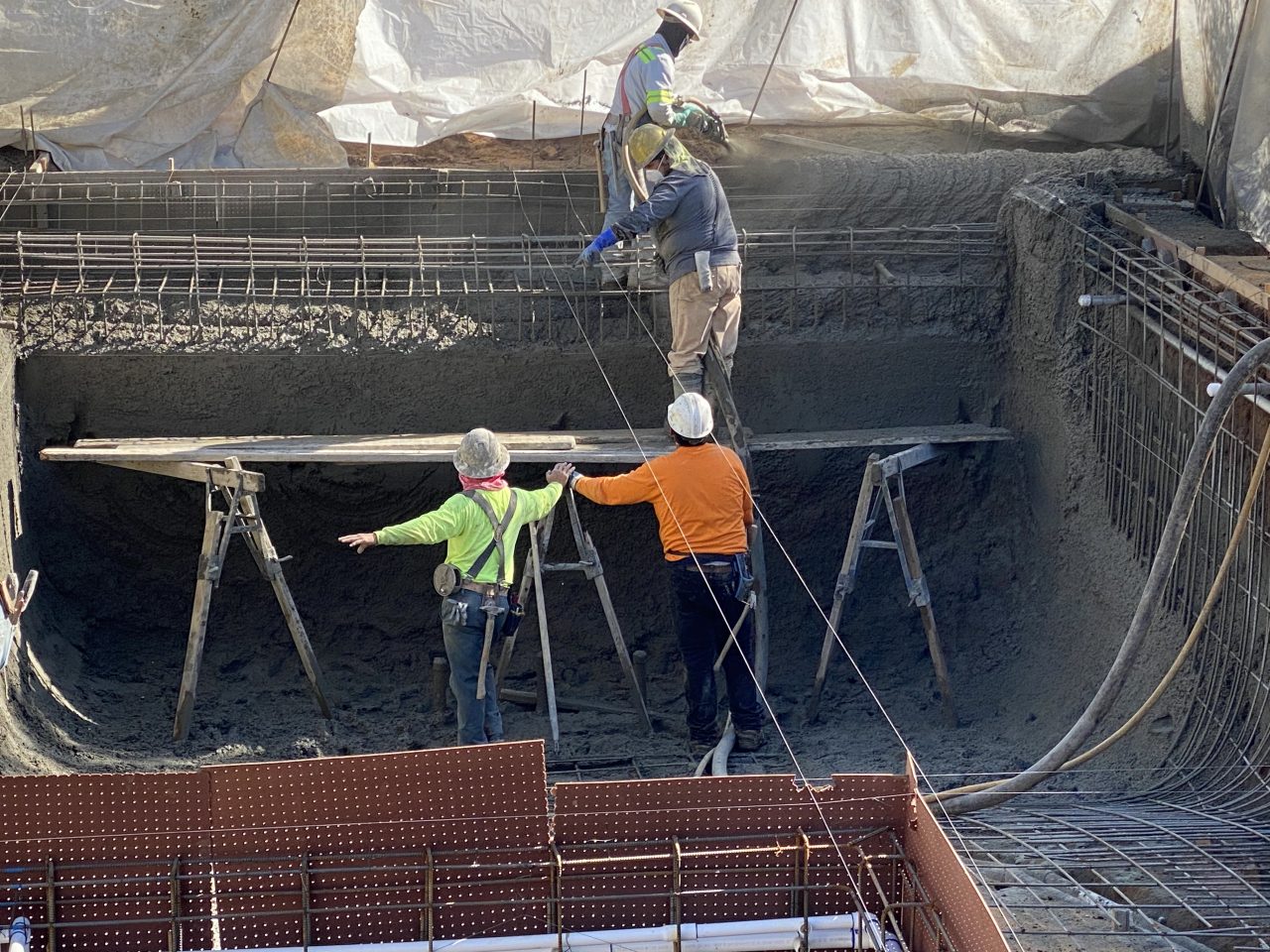 Here is the end result.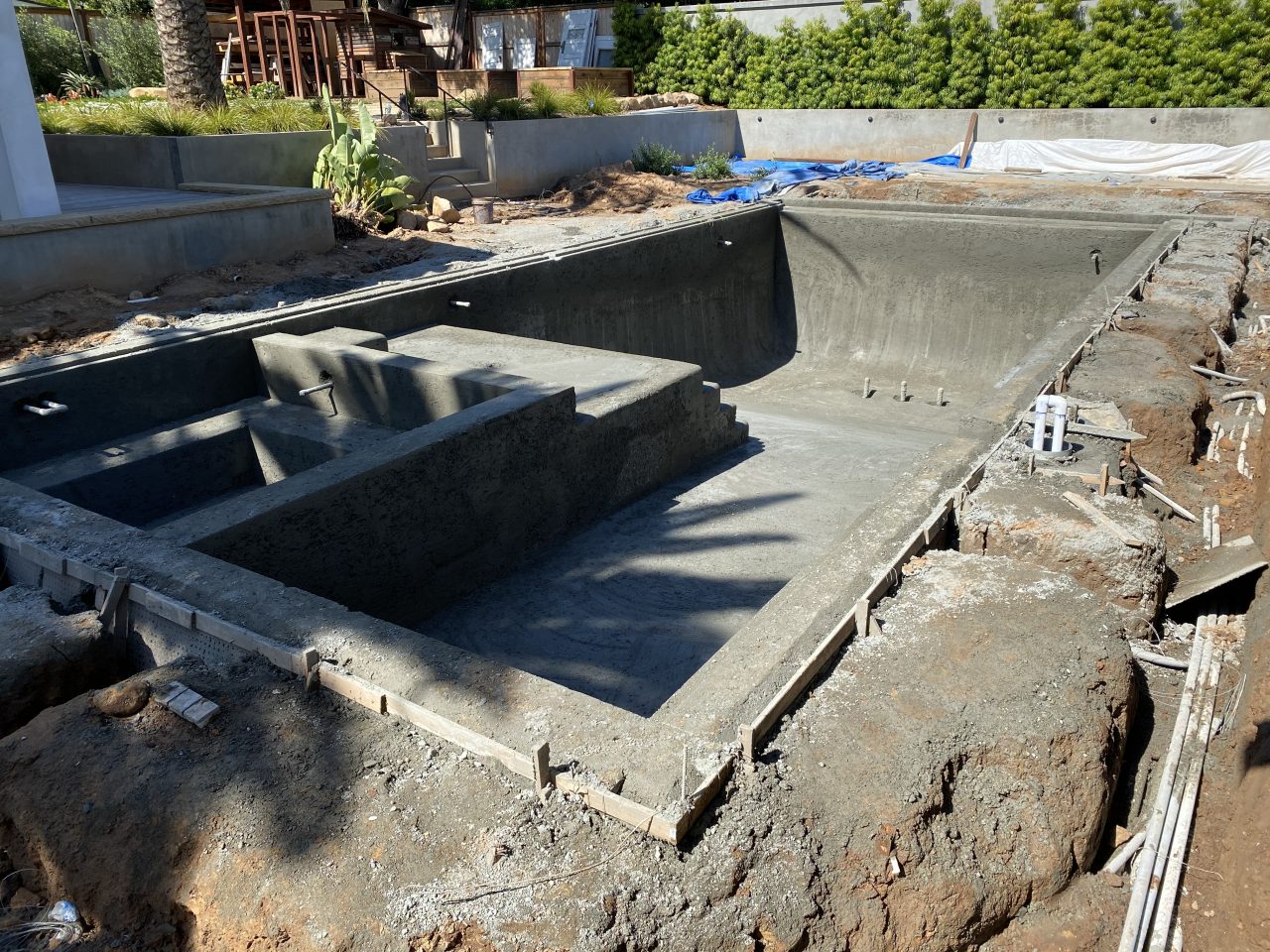 We had to water it a few times a day for almost two weeks to let it cure.
Sculptural changes (early-May)
A couple of the pool details got mixed up due to an old set of plans being presented to the excavation and steel guys. We didn't notice before the shotcrete was complete.  To rectify it, and add in some additional changes we requested, they added a small bench in the deep end, reshaped the steps, and deepened half the spa seats (because we are a tall family).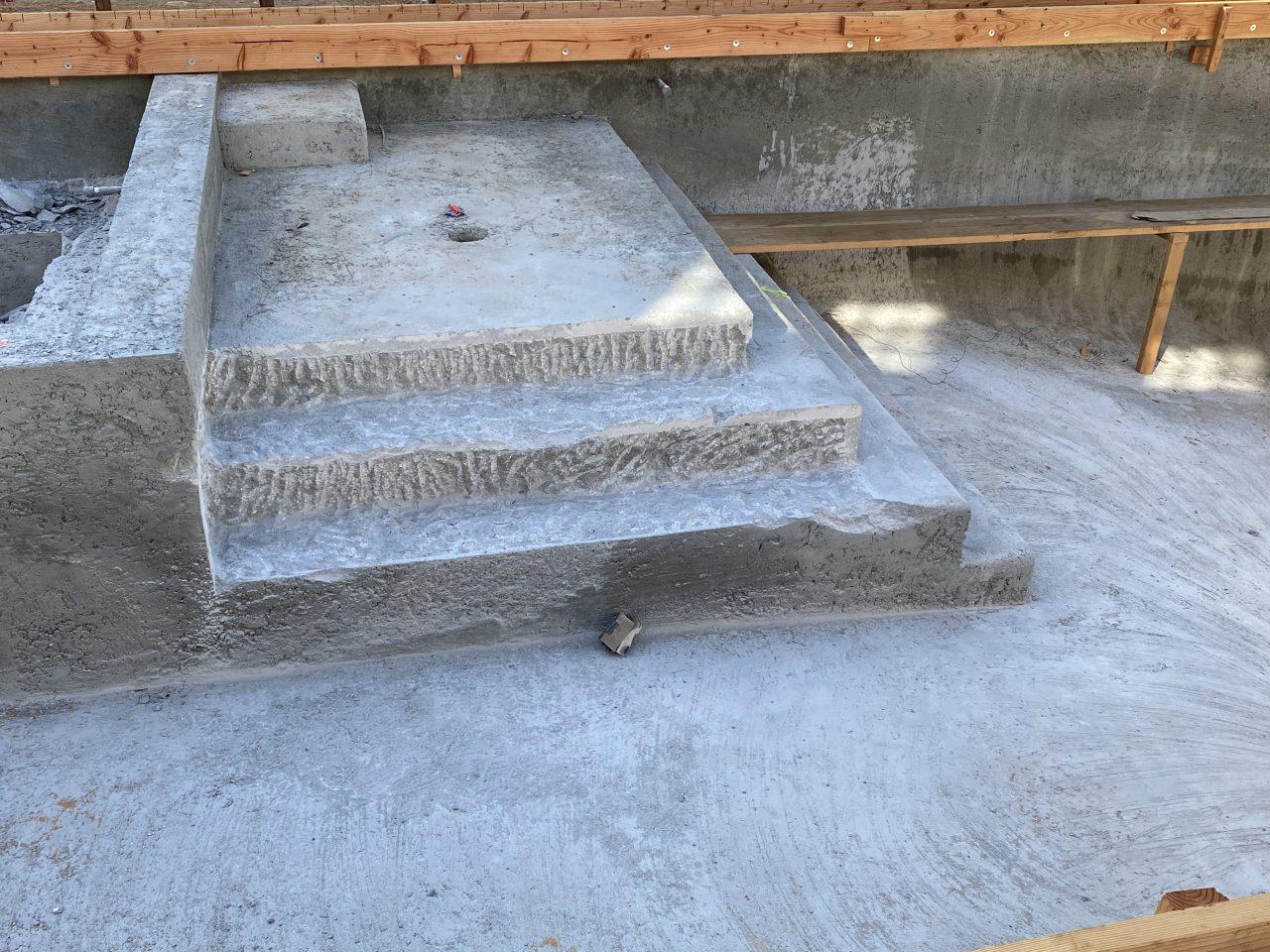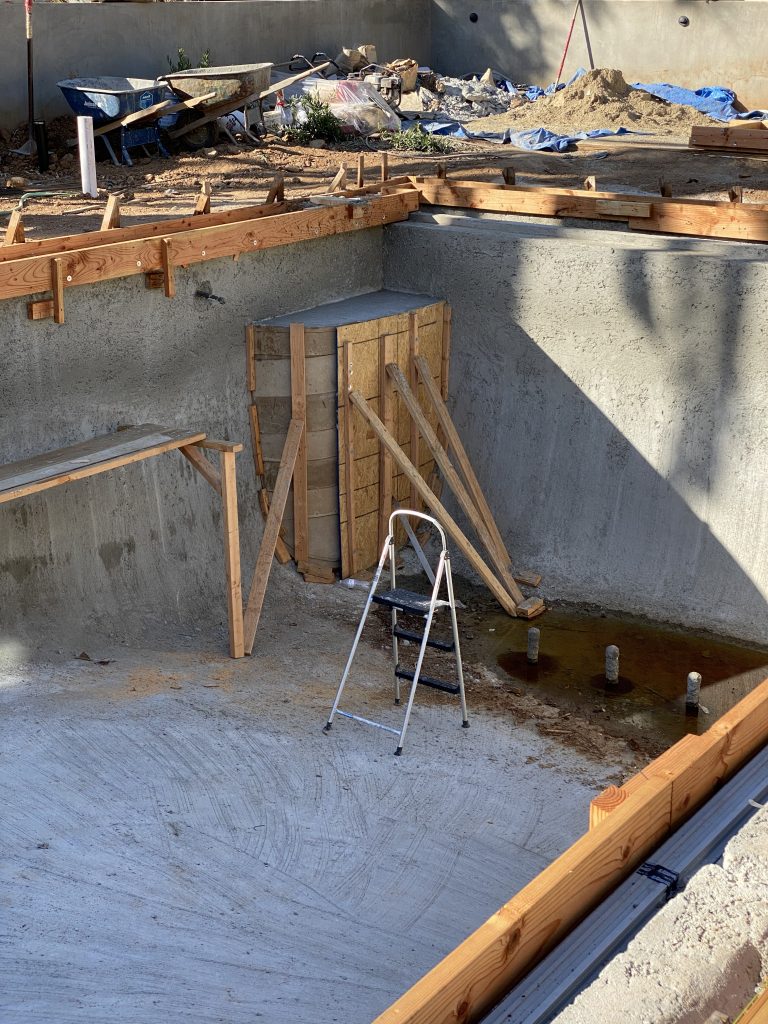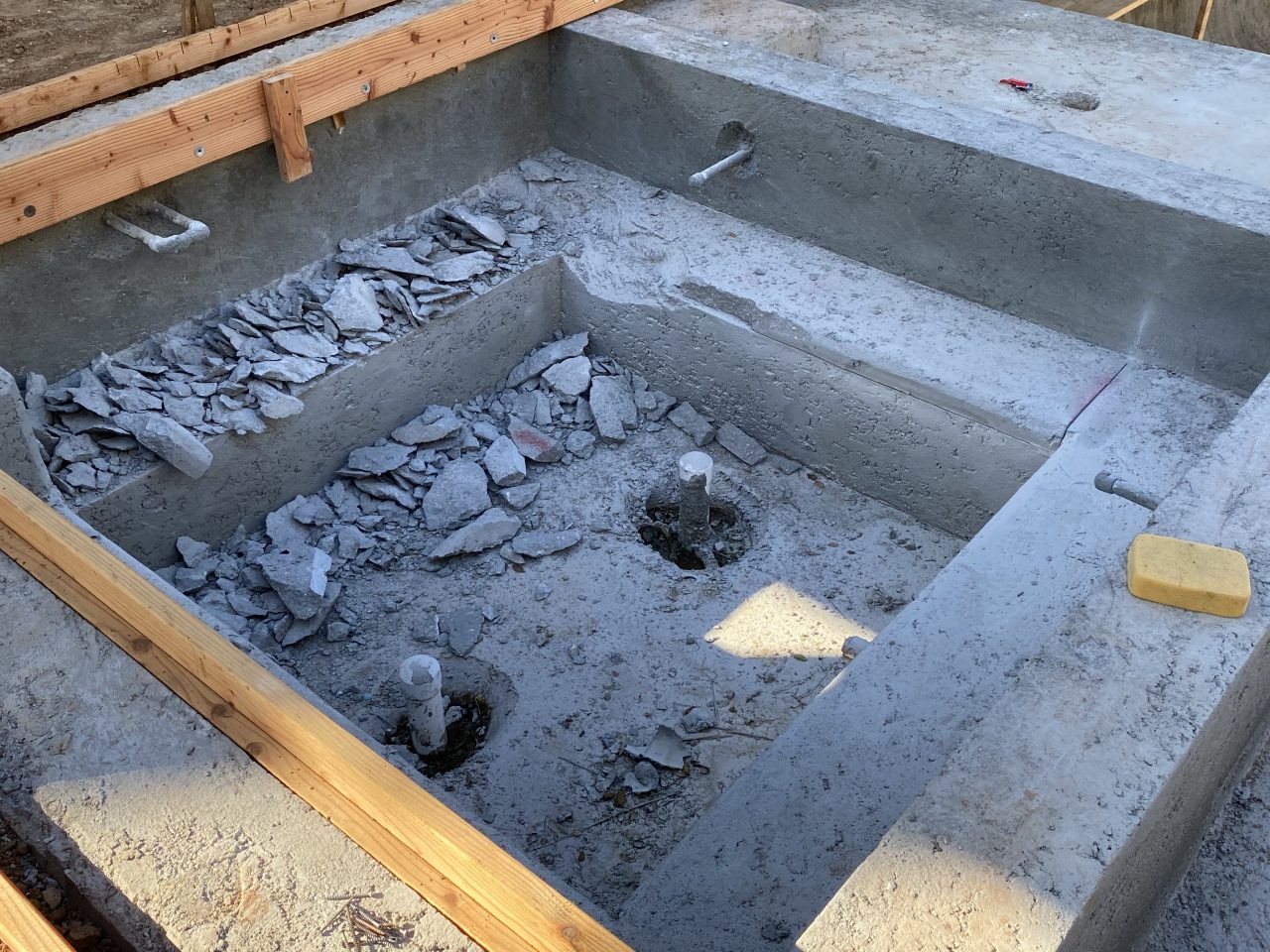 Coping (mid-May)
Next came the coping.  For our pool deck and coping, we opted for a sanded concrete finish in a slightly sandstone shade. We have enough interesting things in our backyard and on our house that it is best to keep with a simple pool deck finish.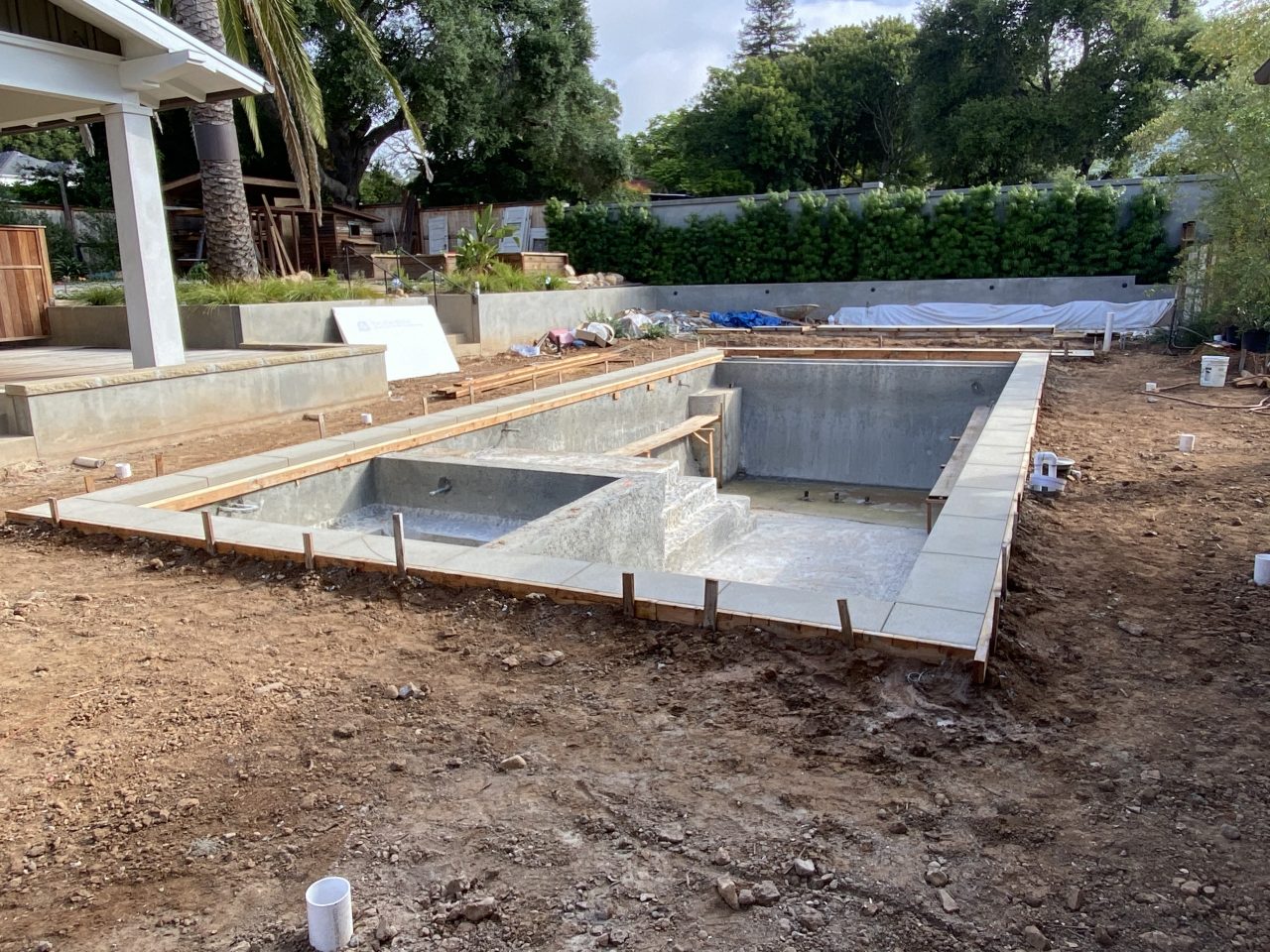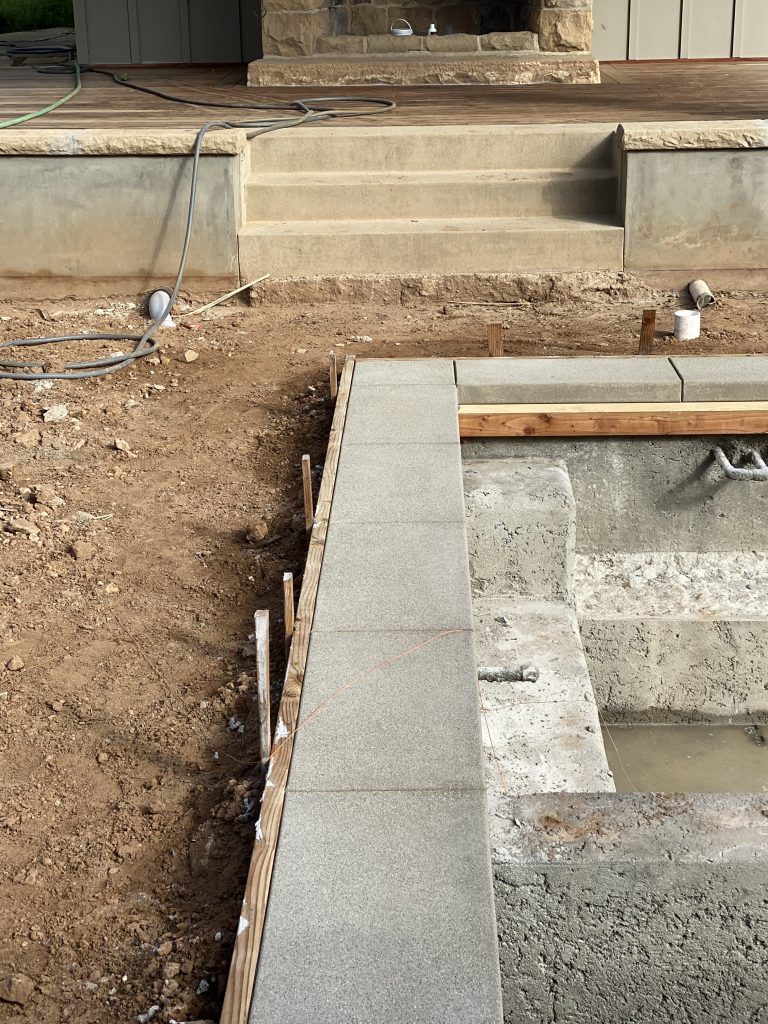 Pool deck (mid-May)
About a week later came the pool deck in the same sanded concrete finish.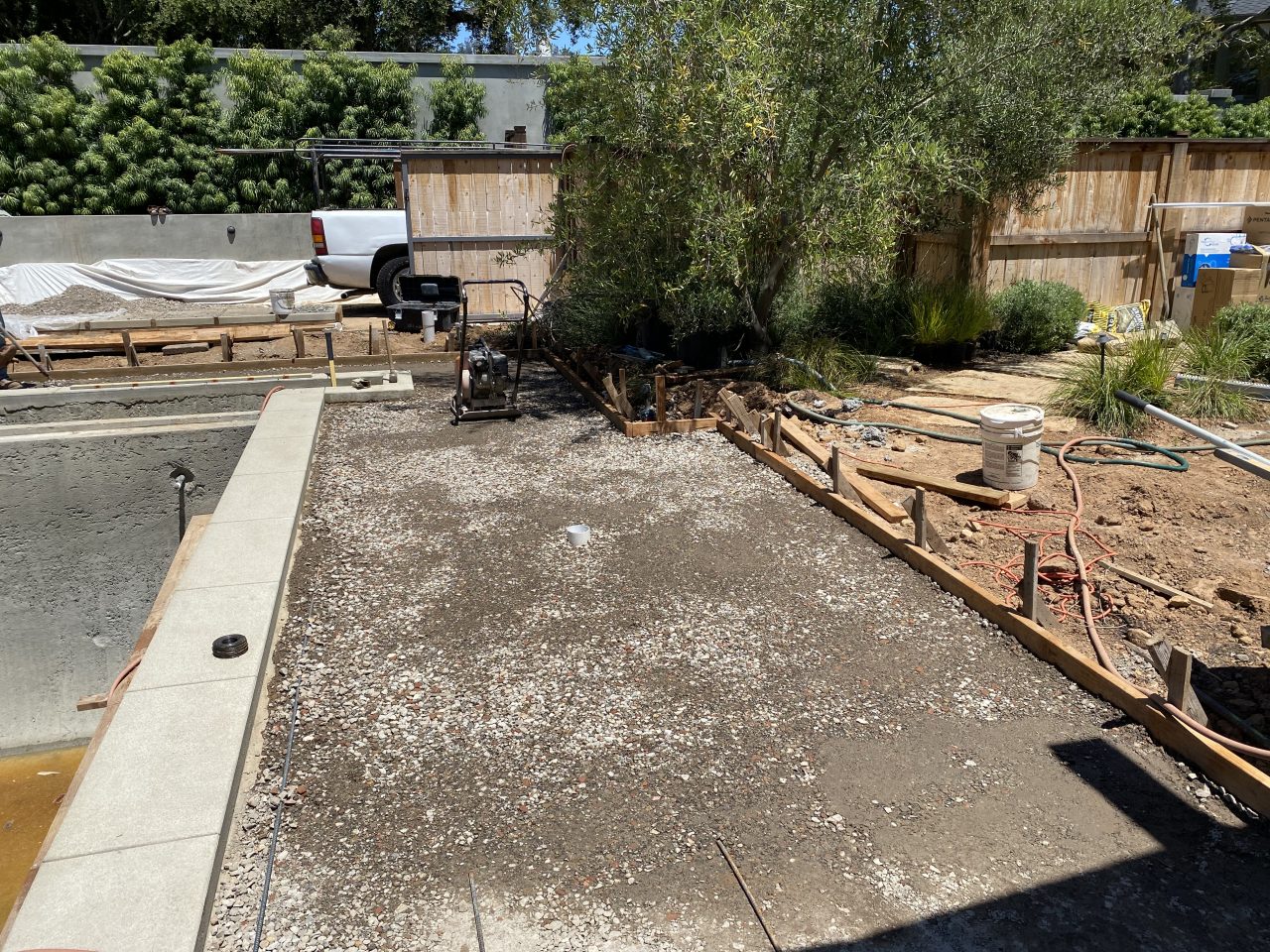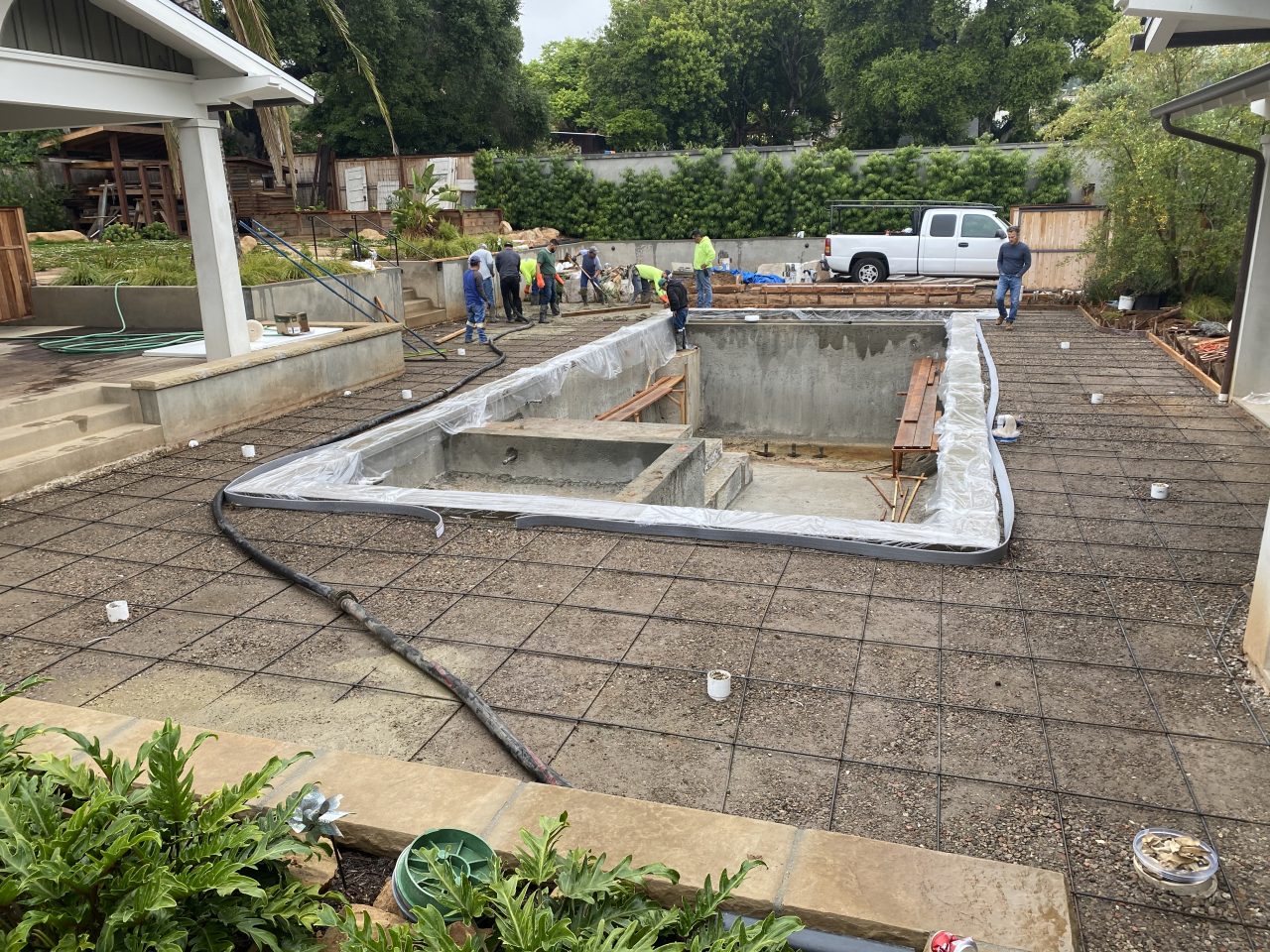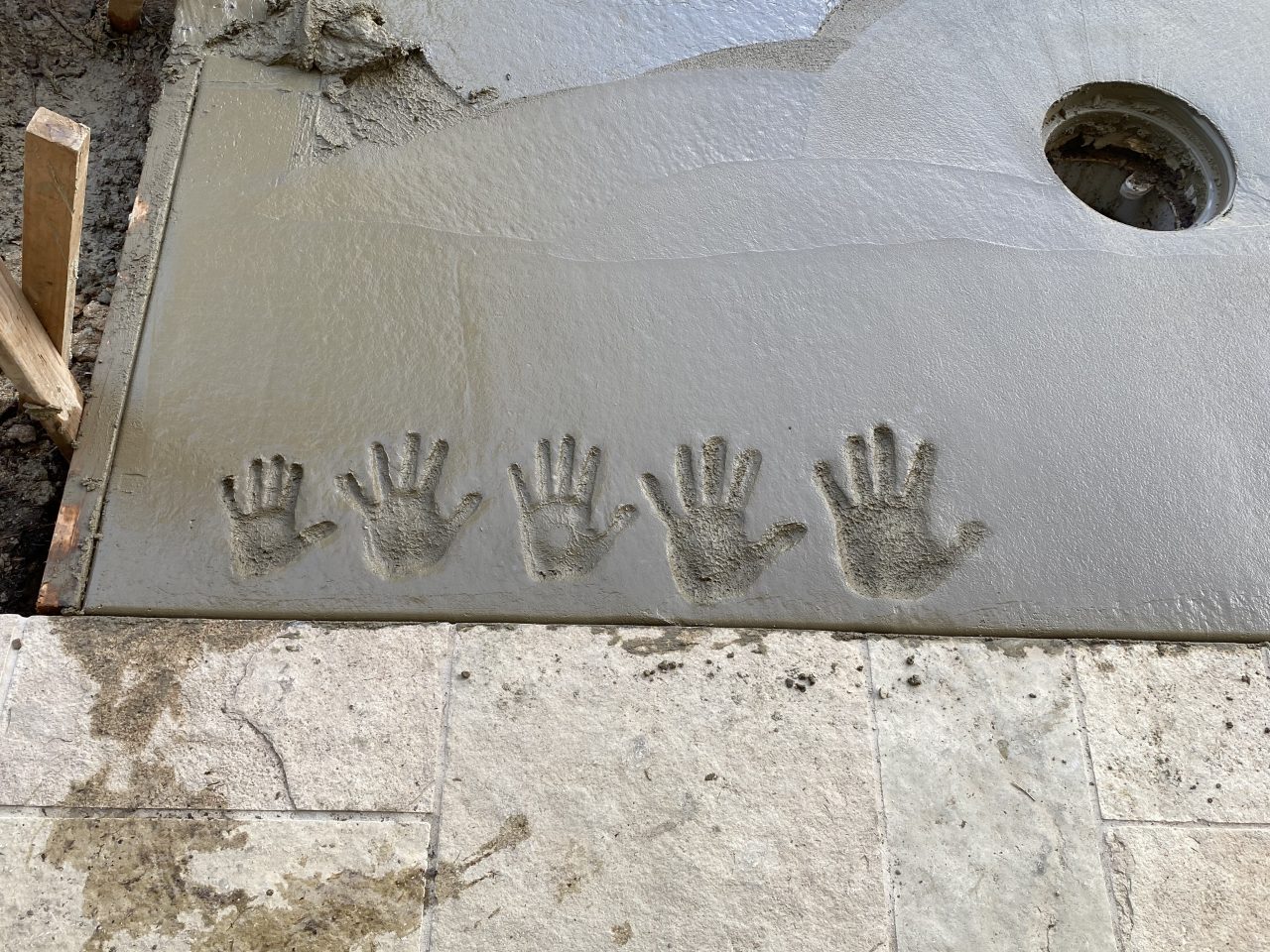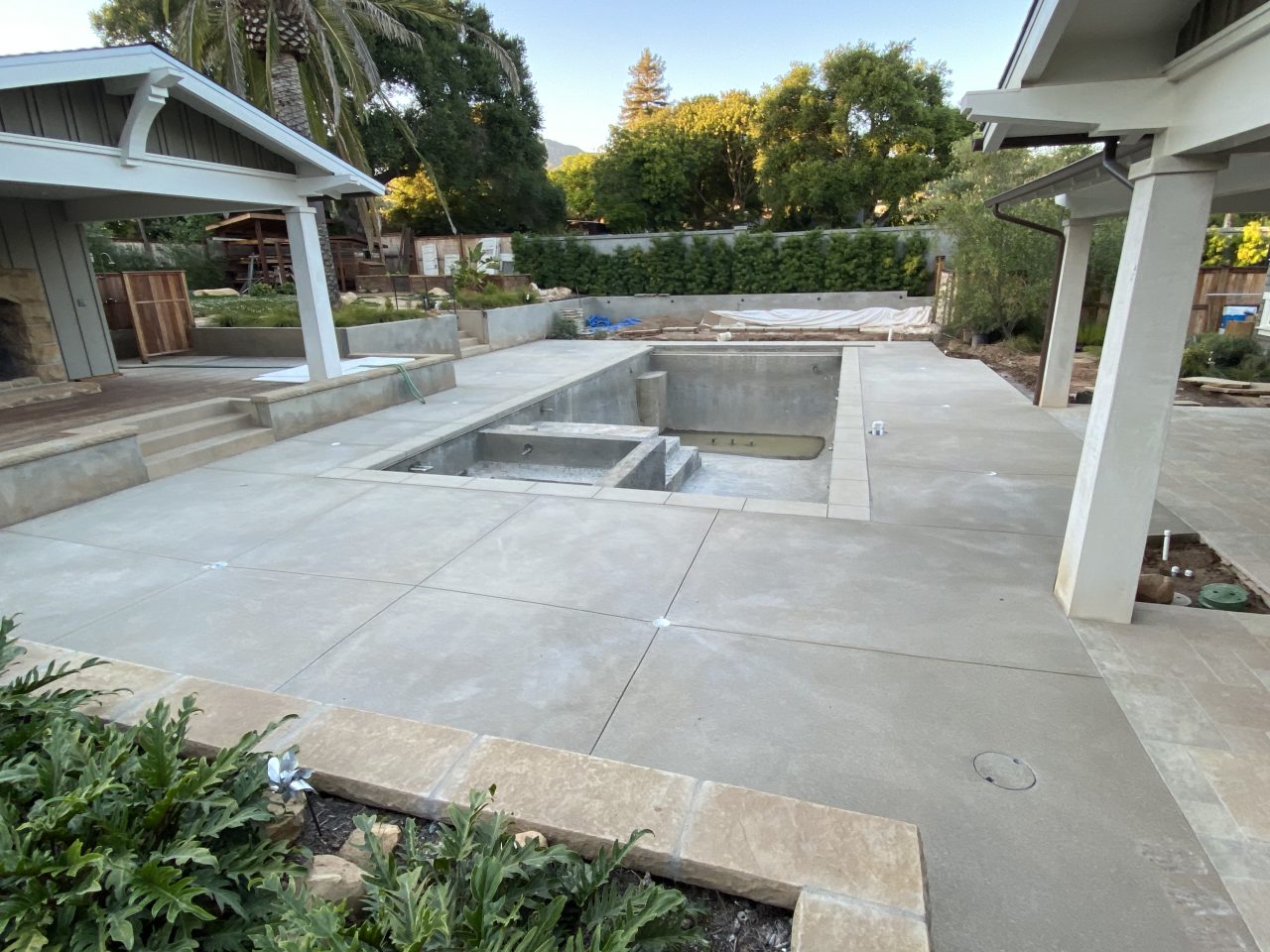 Pool tile (mid-June)
We had a bit of a delay getting the pool finish samples, which we needed to select tile.  Here is the combination we selected for cover, pool finish, and tile.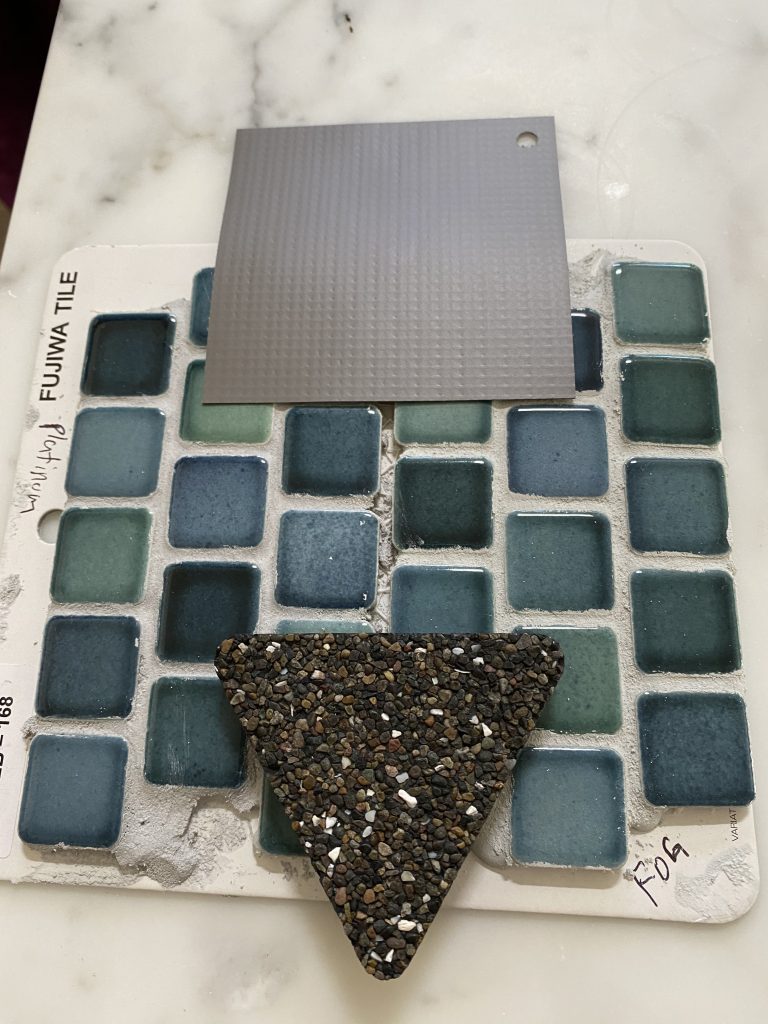 We were nervous about the dark finish.  From pictures we could find of actual pools that had that finish, it gives the water a lagoon like color.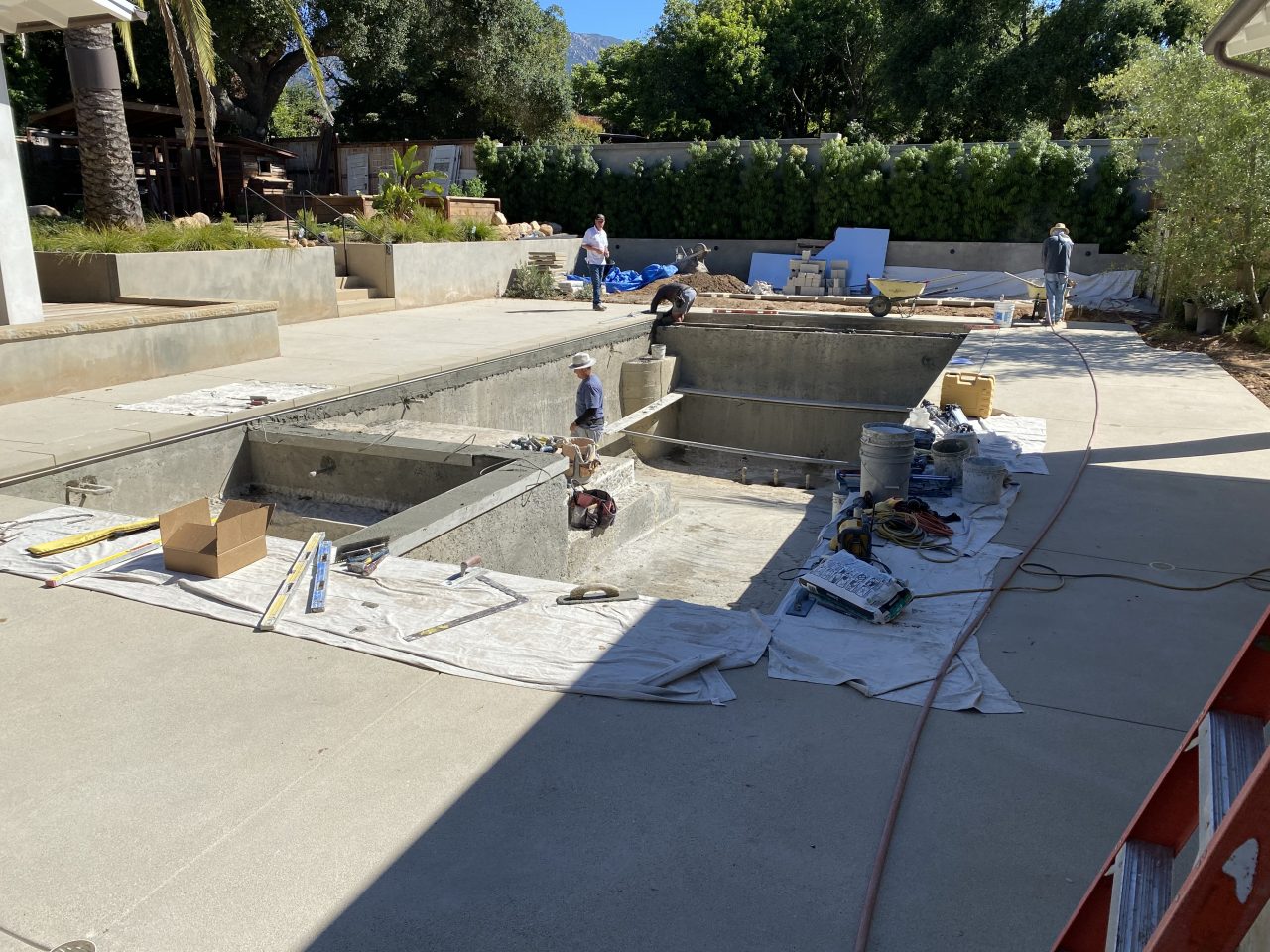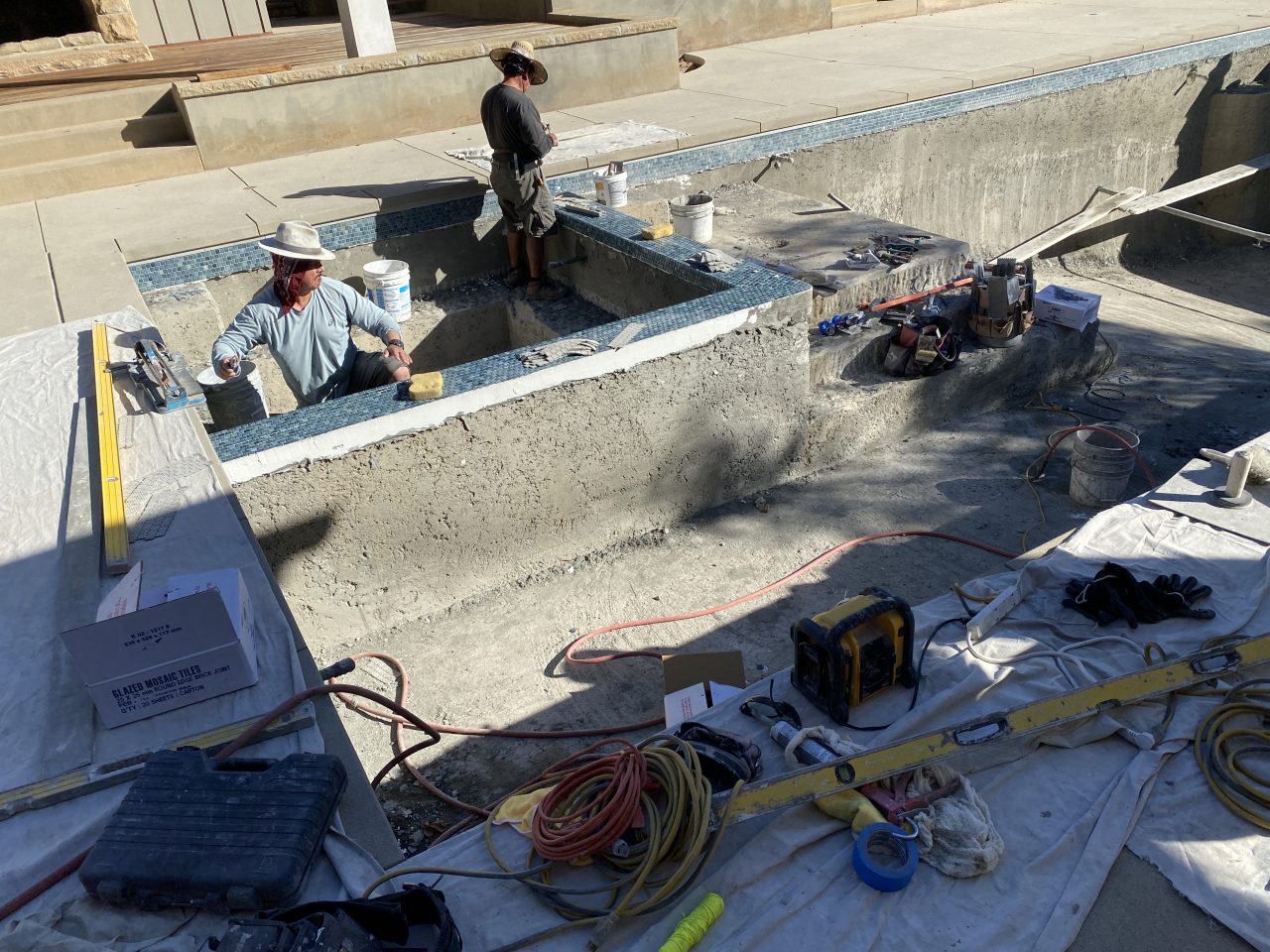 Pool plaster (late-June)
We were under pressure to finish the pool due to an outstanding loan refinance that needed to be closed, which required our permit to be signed off. We had a very difficult time trying to get a hold of the building inspector to set up an inspection.  In the end, we took a risk and just filmed a walk through and emailed it to the inspector, which he accepted.  Since March they've been doing inspections by live video anyways, so our gamble paid off.
After plaster the pool looked great, but very dark.  We were anxious to fill it.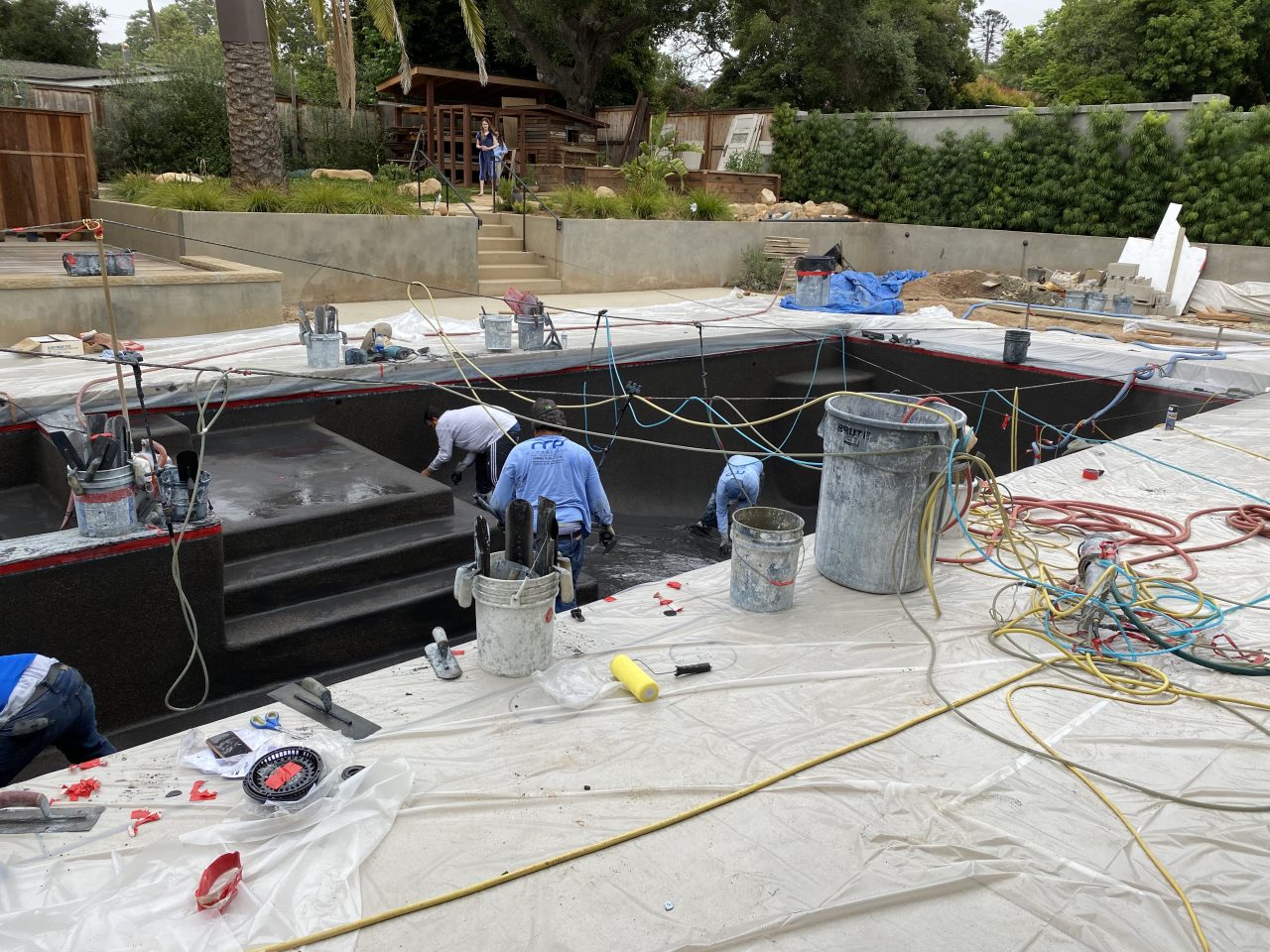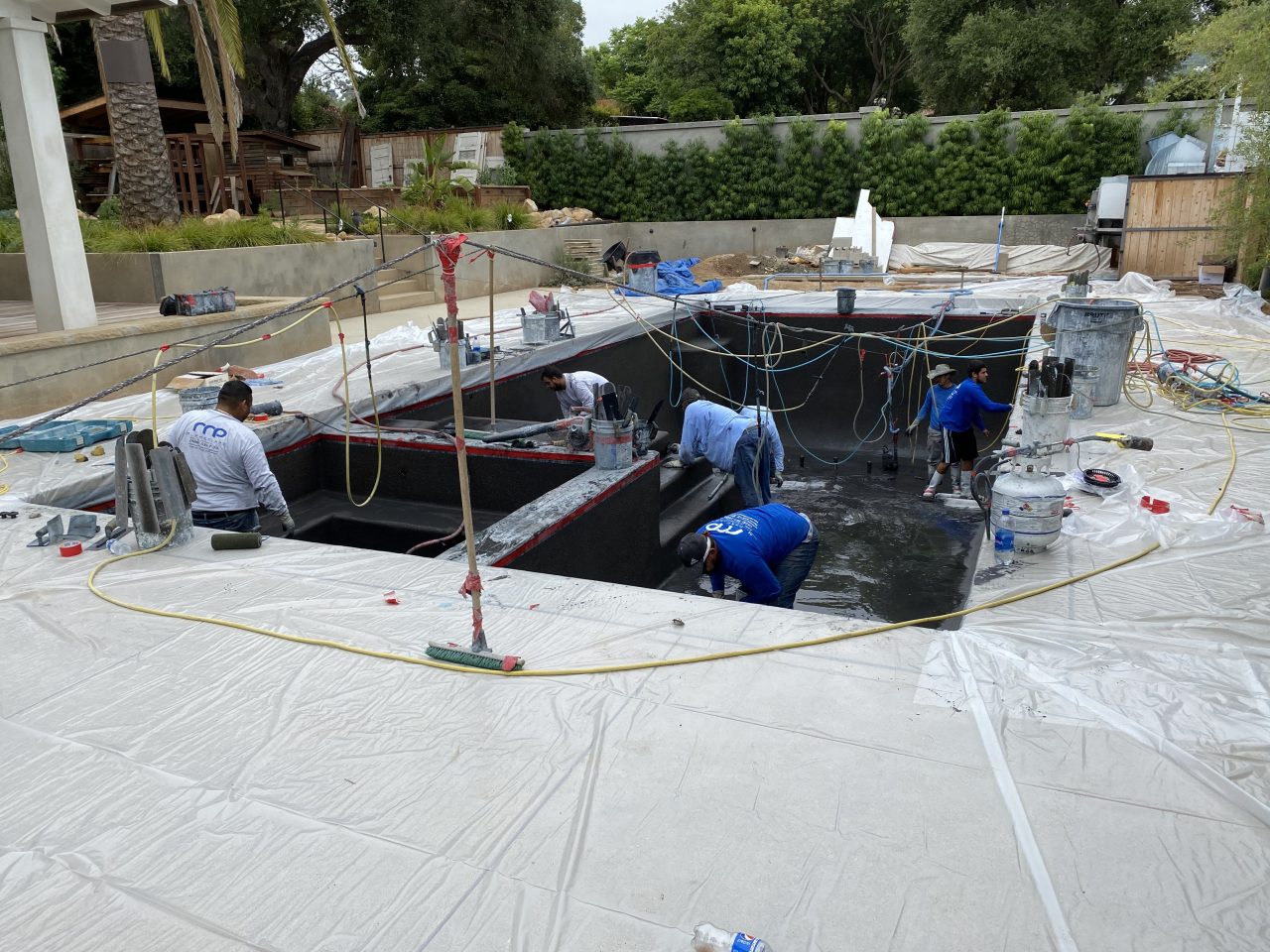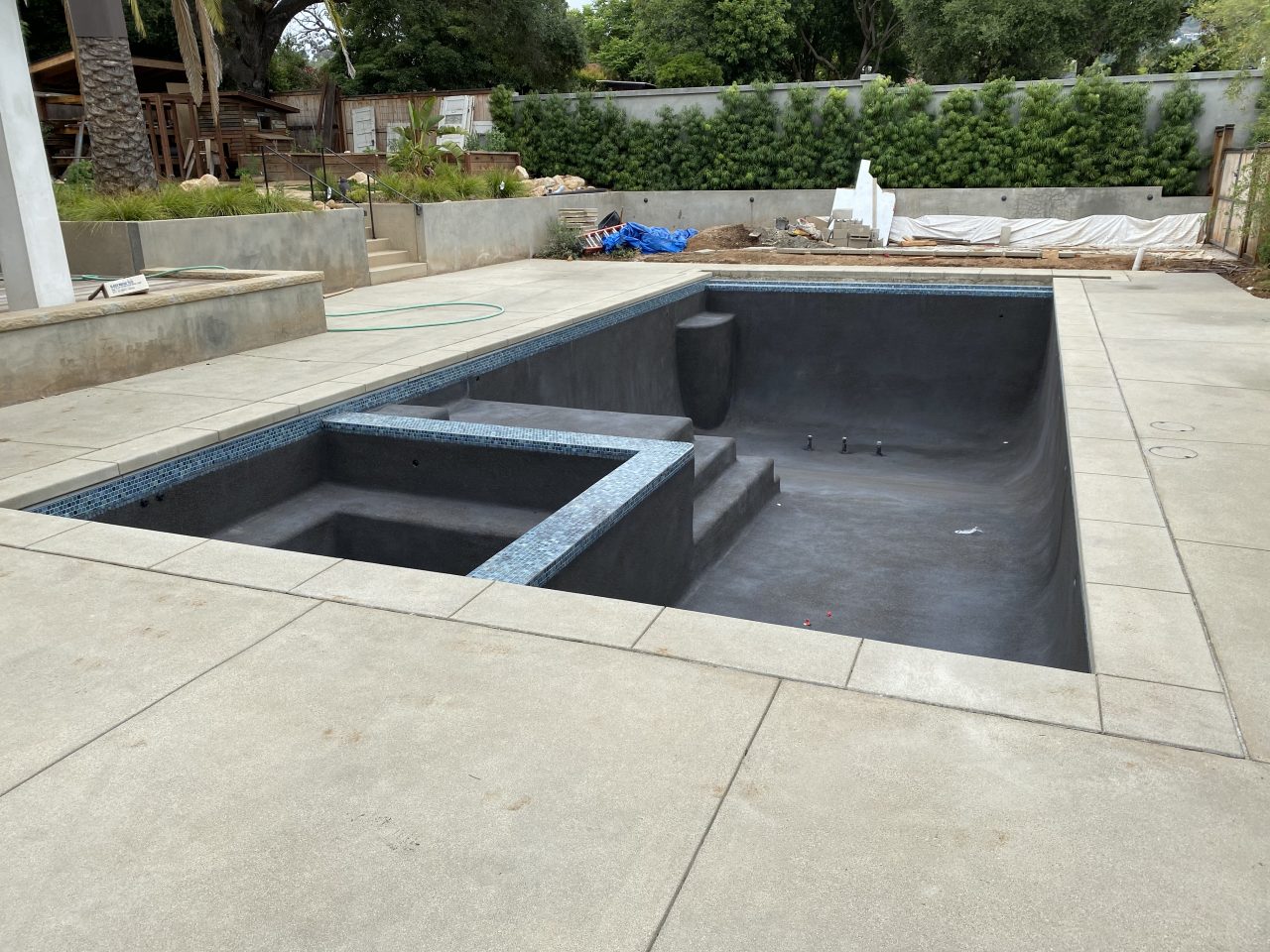 Filling the pool (late-June)
Once filled, we were thrilled with the look (and a little relieved); it was definitely the deep lagoon water look that we wanted.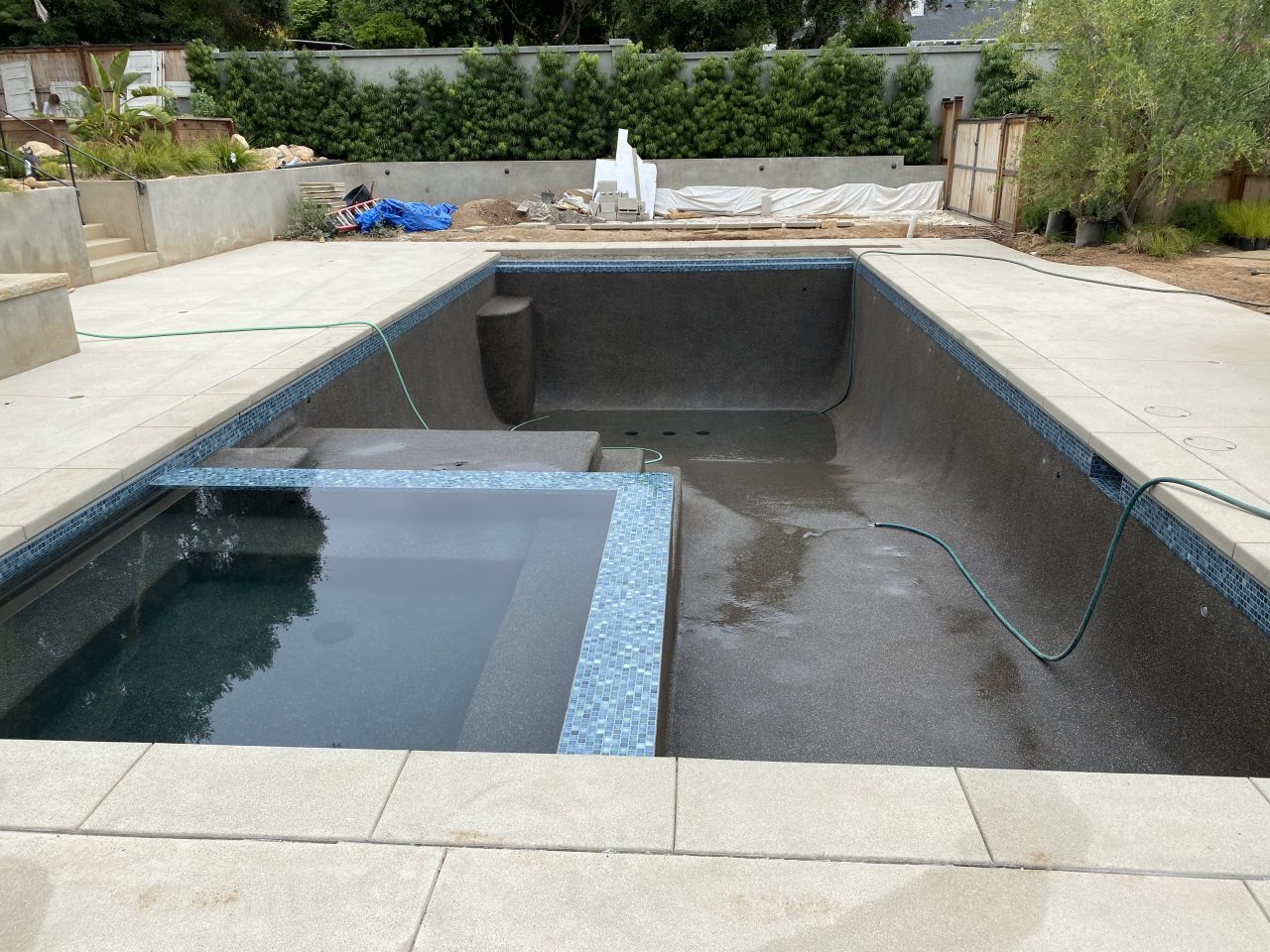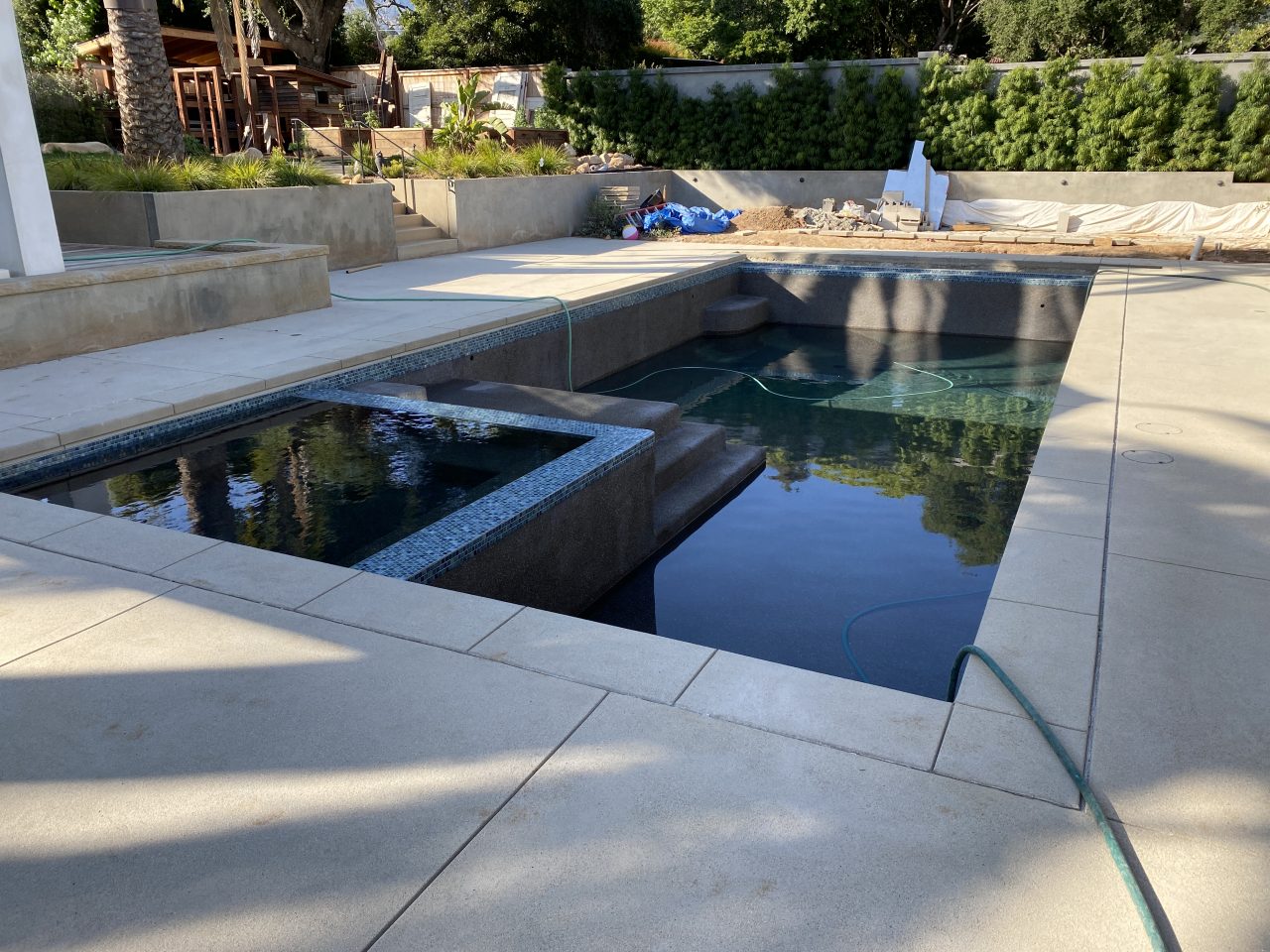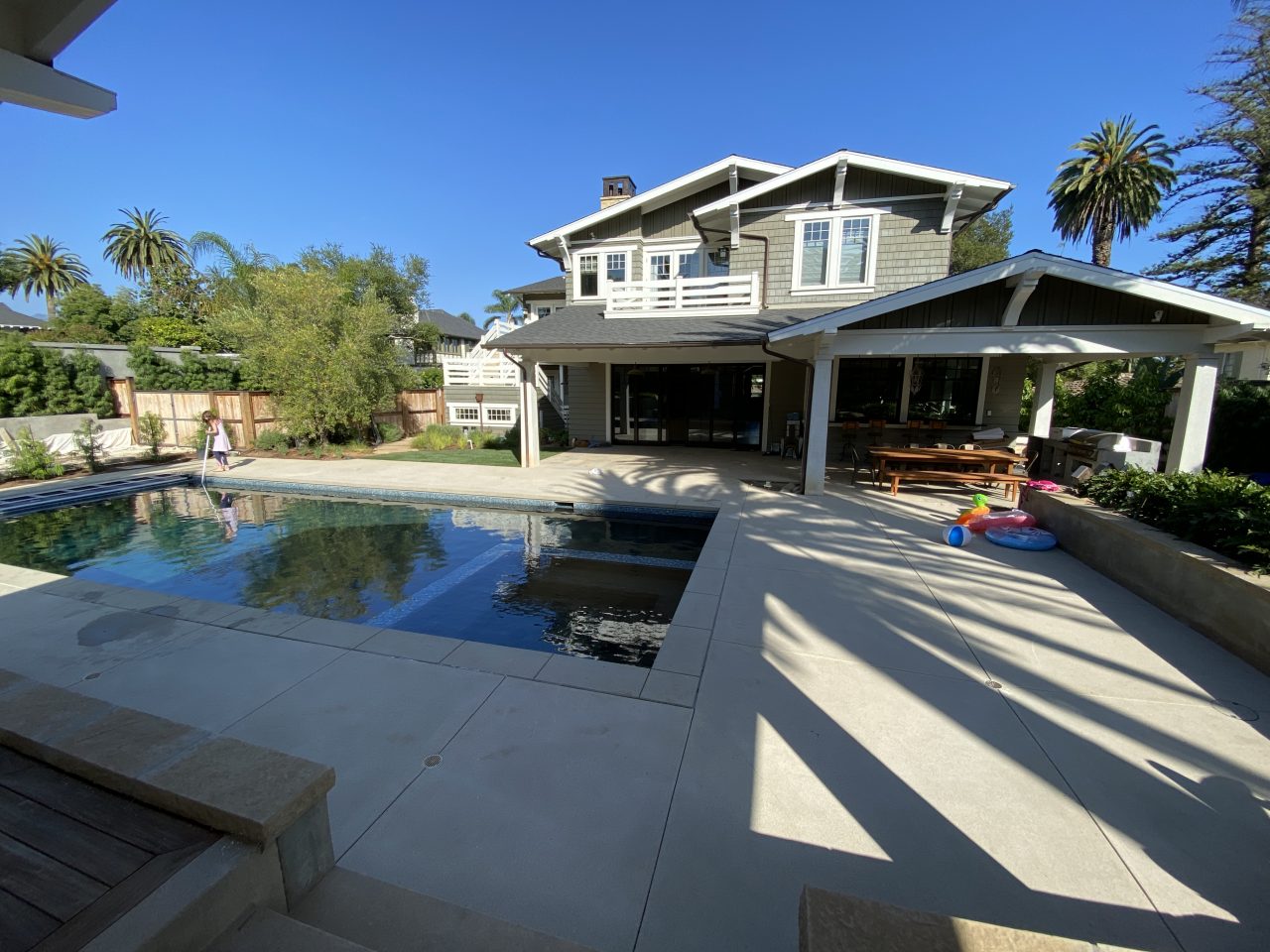 It took about 12 hours with three hoses to fill the pool, which holds about 30,000 gallons of water.  I was up at midnight turning the water off.
Pool equipment (early-July)
We had a few snafu's with our pool equipment installation that took about a week to resolve.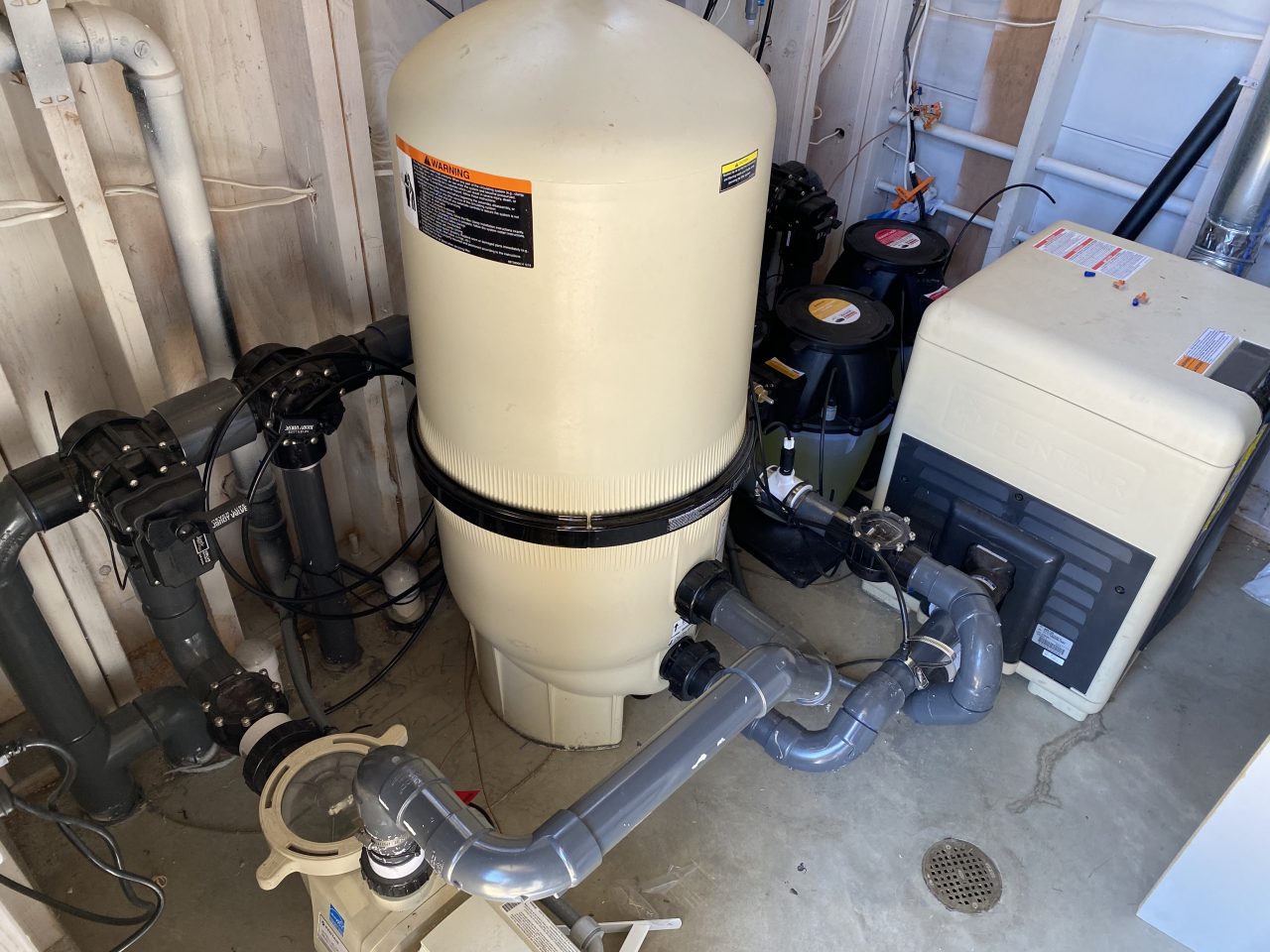 It's amazing how far pool equipment has come since the pool I grew up with, installed in the 70's.  At that time, filtration was done with a large sand filter.  Our filter here is about 1/3 the size and used a 4-stage corrugated filter cartridge system.  It only has to be cleaned every 7-9 months and no back washing that wastes water.
The heater heats the pool about 3 degrees per hour, vs 1 degree per hour for the much older heater at my parents pool that is 2/3 the size.
We also have an IntelliChem system which automatically and continually adjusts the PH and chlorine levels.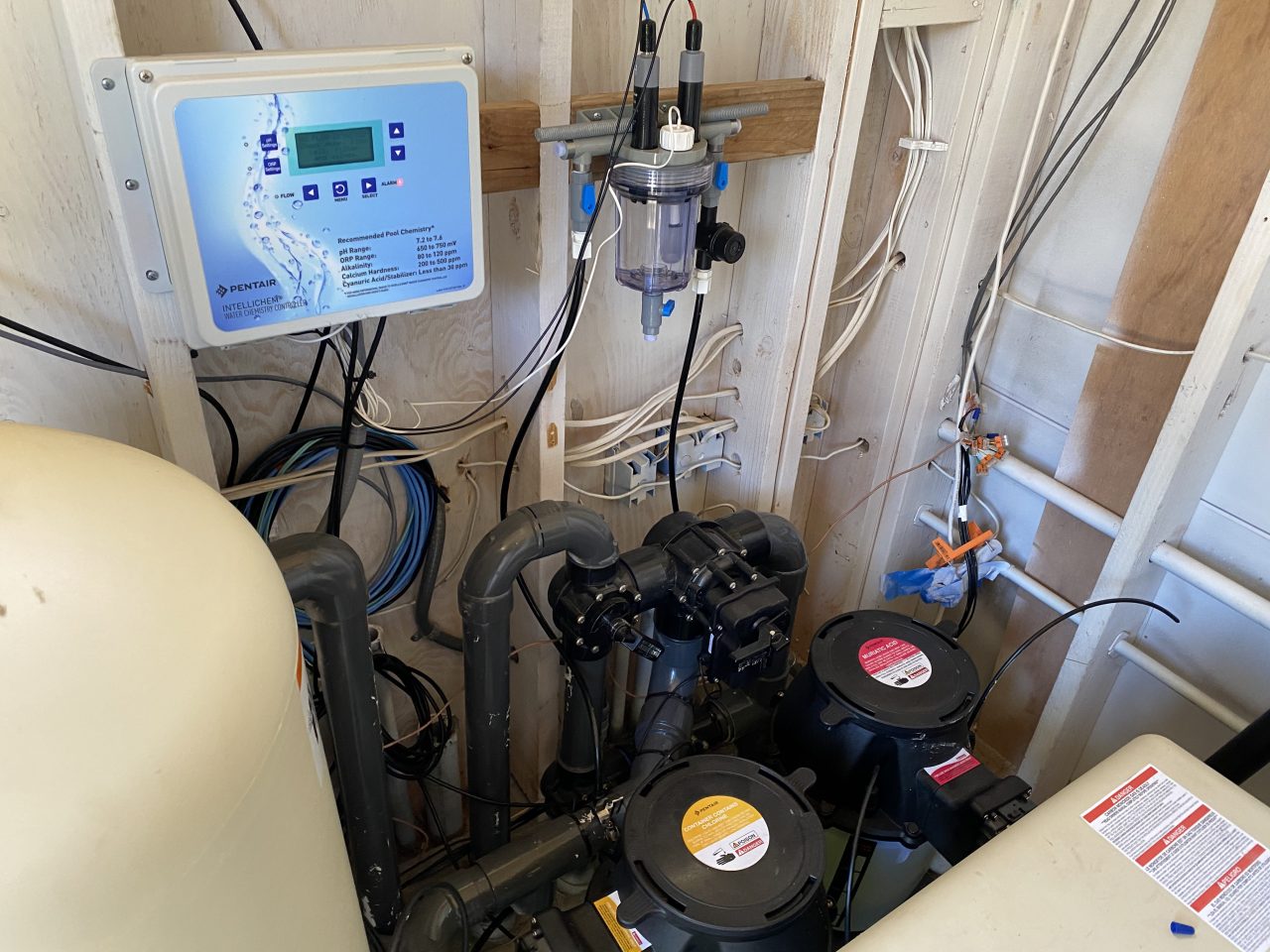 And of course, the pool can be controlled from a smart phone app.
Swimming (July 4th)
We finally got into the pool by the July 4th weekend, and we've used it every day since.  It is a game changer for us.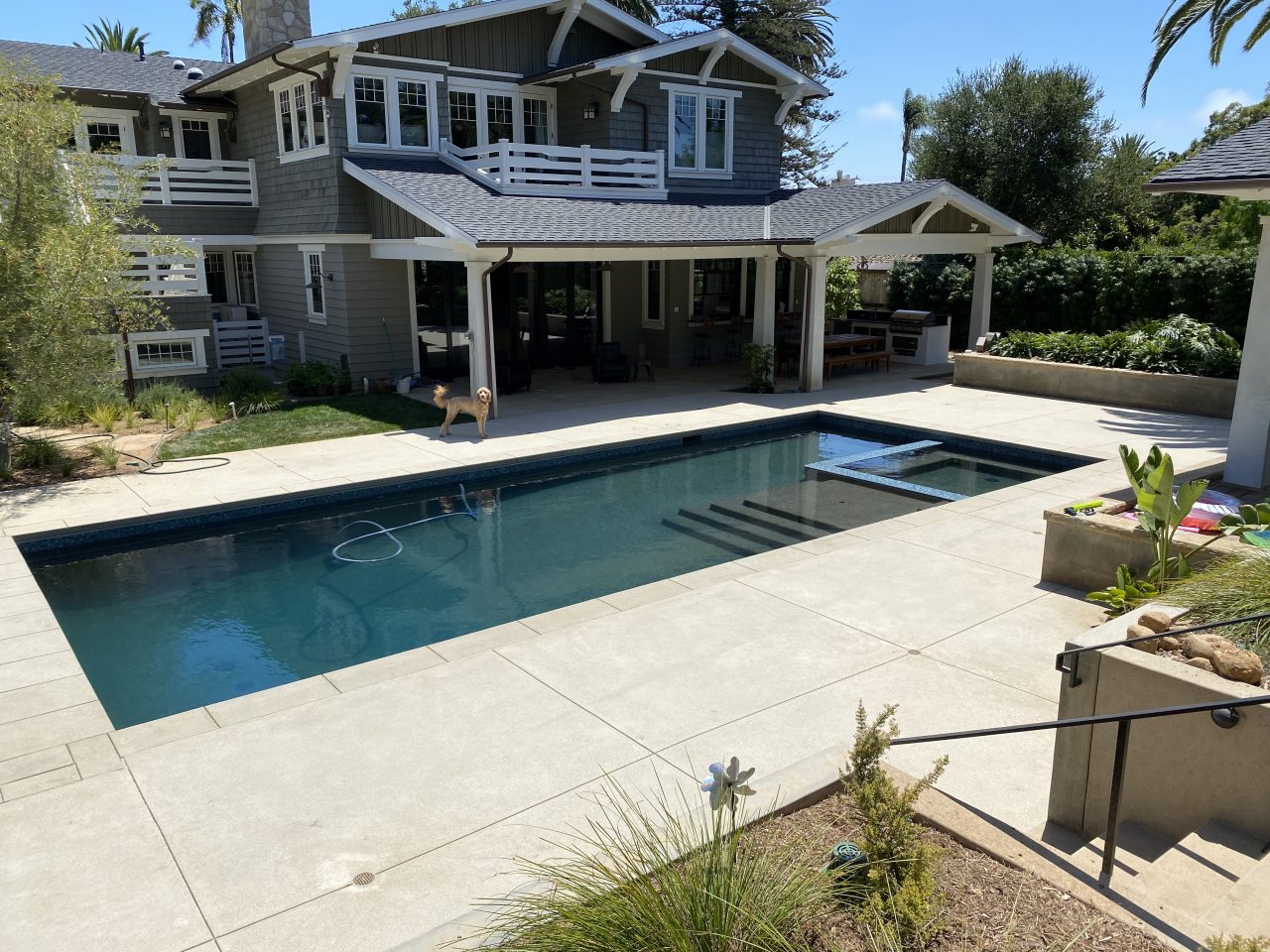 Pool cover (mid-July)
Strangely, the cover people mis-measured and the cover they brought was 8 feet too short.  So we had to wait a couple of weeks for a replacement cover.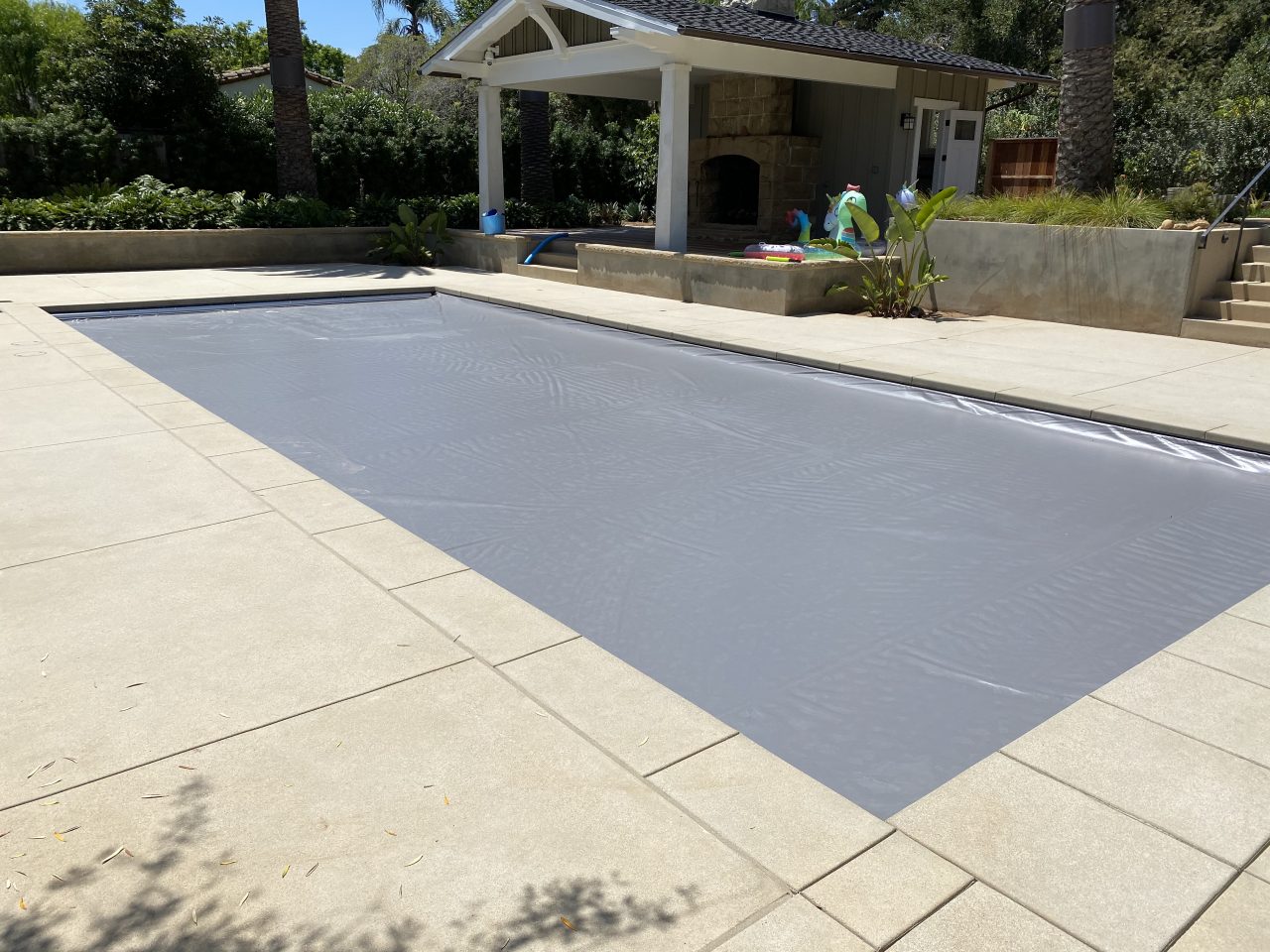 When the pool is covered, the top 6-9 inches of water can get very hot, which is really interesting when you swim.  Overall it does a good job at heating the pool during summer days.  Cover or no, our pool seems to be staying around 86 degrees during the summer, which is about perfect for swimming.  I have yet to see if the pool heats up more covered (grey cover) or uncovered (black-brown bottom).  On a particularly sunny day, the pool temperature rose 4 degrees from just the sun when uncovered.