It's been a couple of weeks since my last update, but there have been no major change, just slow progress.  We are in the nebulous zone between finishing everything in the walls and getting our inspections so we can then insulate and drywall the interior.  There always seems to be a few more things to take care of.
Interior framing
We are tweaking the framing in places to accommodate things like having to run a downspout through the wall (and the need for a thicker interior wall), head out walls for audio video wall boxes, and minor things like that.  This stuff probably isn't enough to hold up insulation and drywall and could proceed in parallel with them.
Plumbing
The plumbers are all done and we've had the sewer part of it inspected.  Holding up our second plumbing inspection are some sinks that we added for convenience, but we need to get permit approval for on a revised permit.  Santa Barbara is very strict about allowing parts of houses to be used as stand-alone rentals (like studio and 1 bedroom apartments).  But the underground rental economy is thick with illegal converted garage rentals (which people are now converting to legal under the state's new accessory dwelling unit law).  Because of all this, Santa Barbara is very picky about anything that might allow for an illegal unit (like sinks).  Unfortunately the side affect is that it just makes it more difficult for people like us that just want some extra sinks for convenience.  Like in the kids craft room.
Audio / Video
The AV guys are still stuffing the last few things in the walls.
Electrical
This is the one that has been a bit behind.  The electricians are working furiously to get everything done, but are very close, possibly even done today.
HVAC
The part of the HVAC that needs to go in before drywall is all done and has been inspected.  They will pick up again after drywall.
Insulation
All things considered, we are tentatively hoping to start insulating next week sometime.
Stone work
The stone work on the house is almost complete.  And boy does it look good.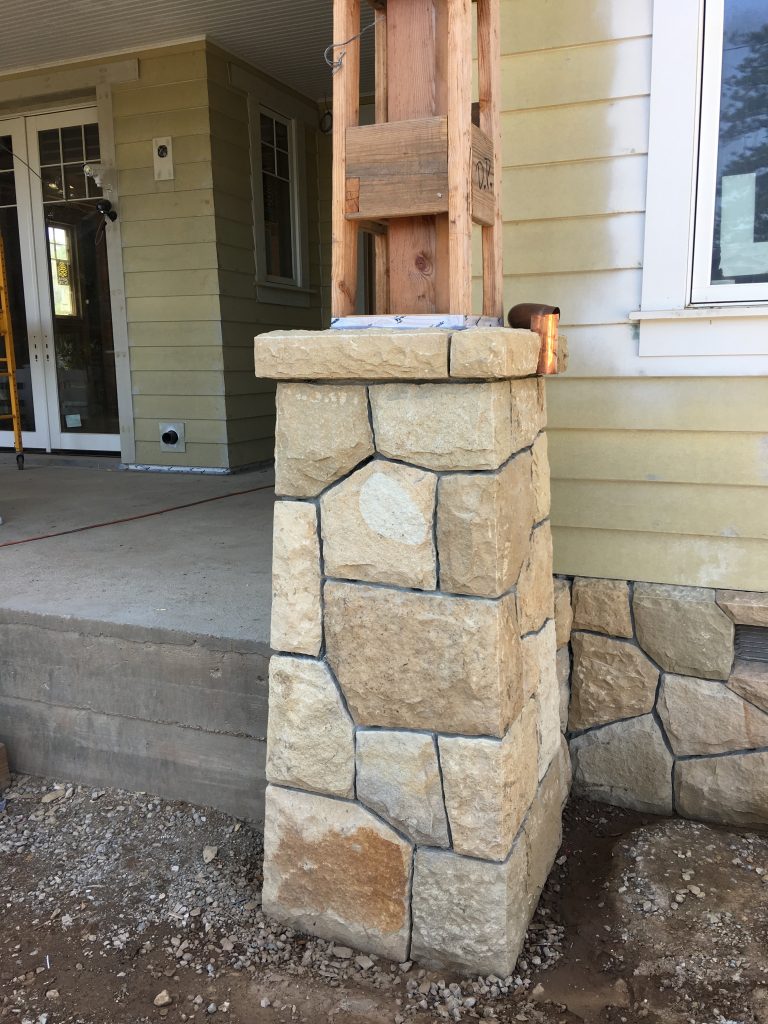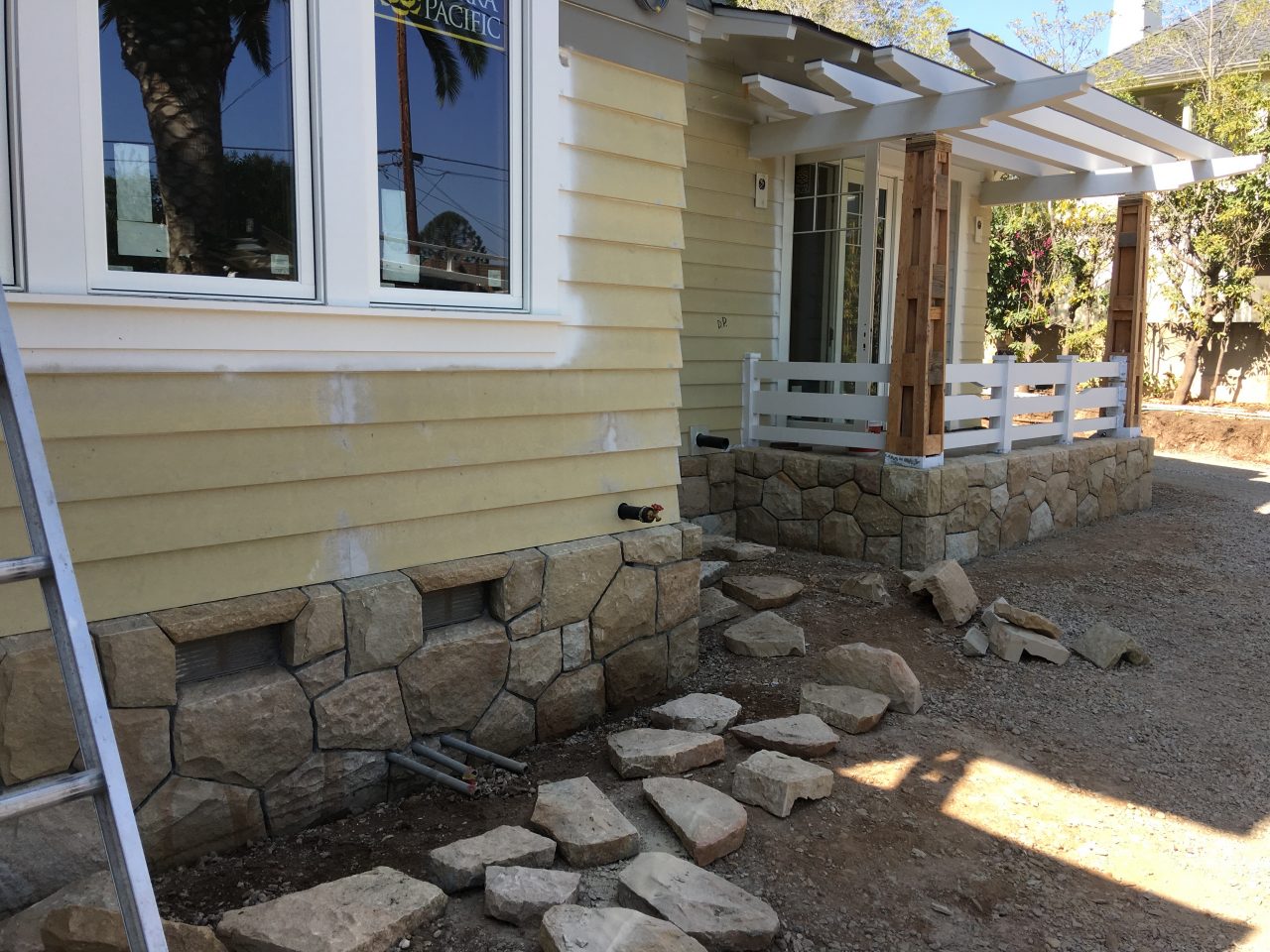 We have lots more stone work to come for the hard scape.
Painting
The painters continue to work on the outside of the house.  Currently, they are finishing up the last railings and starting to paint the bead board ceilings that were installed in the last couple of weeks.  After that, only the first floor siding is left and the outside will be complete.
Gutters
The roofers came and installed most of the gutters last week.  The left off the ones on the first floor that might be damaged by ongoing construction.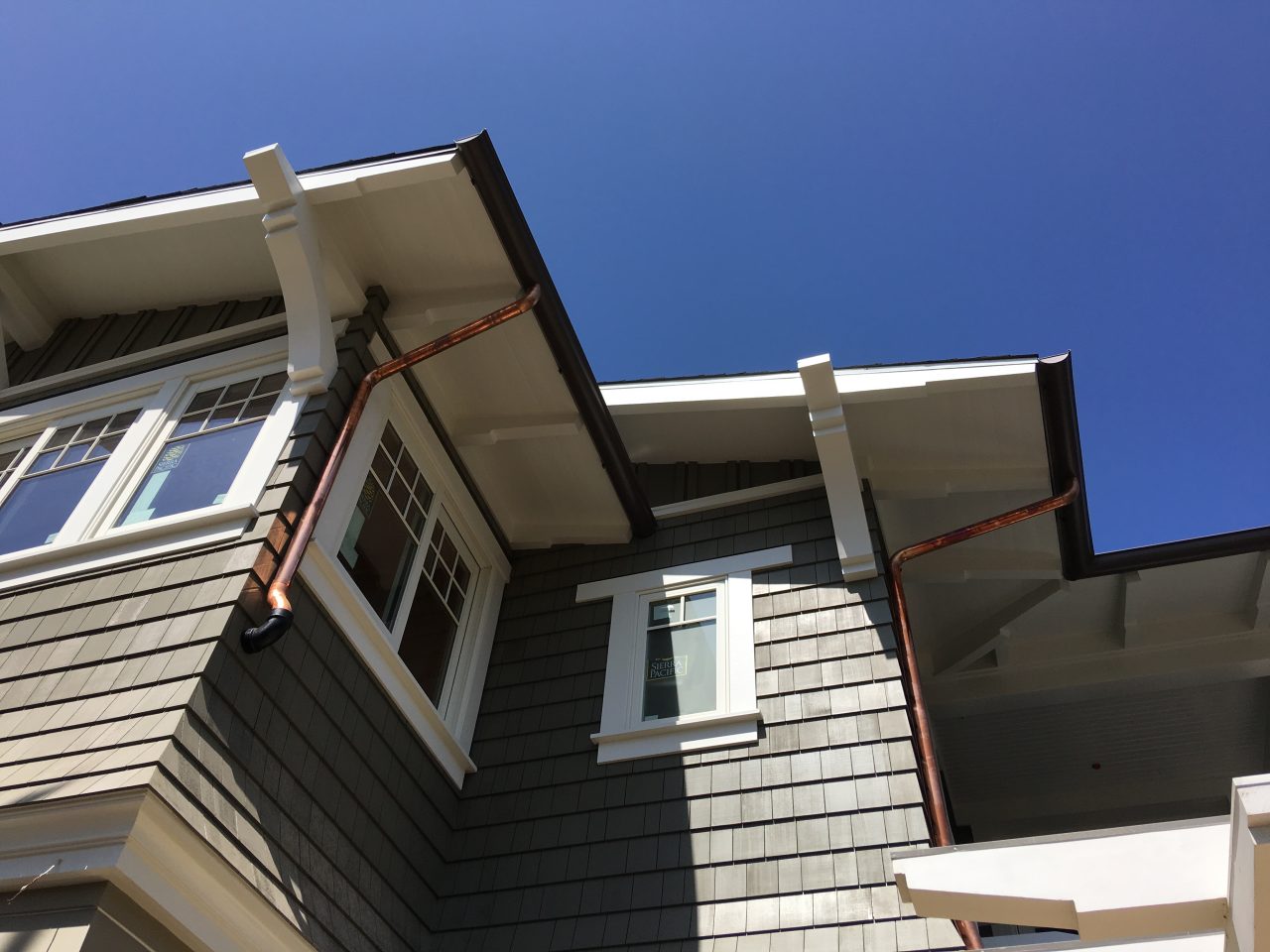 A couple of things to note from this picture.  First, in quite a few places, we have to go into the wall with the downspout because wrapping the downspout around the 2nd floor flare (also called a skirt) would look kludgy.  The downspout then comes out down low on the first floor below the flare.  Where the downspout goes into the wall, we will put what is a called a leader head – basically a decorative copper box.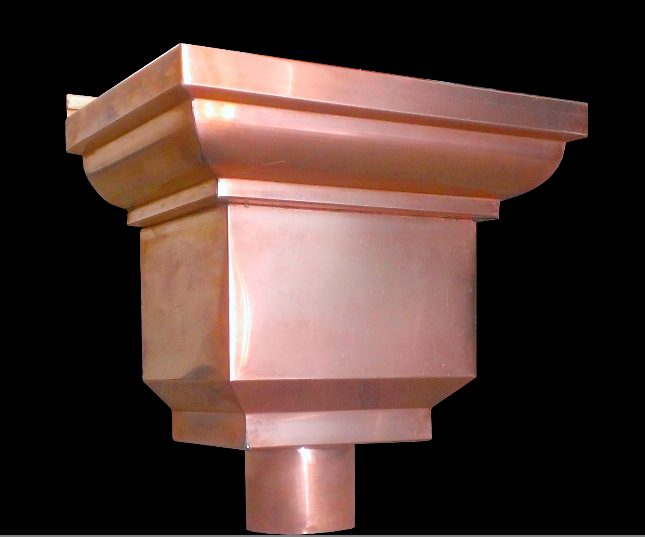 Of course, in the case above, there will be no downspout out the bottom of the leader head.
Second, we've opted for painted aluminum gutters paired with copper downspouts.   In our environment, copper tends to turn a solid brown color, rather than the blueish-green patine you might see in other areas.  Because most gutters are somewhat out of range of close scrutiny, simply using an aluminum gutter the same color that the copper will eventually turn is a good way to save some money, and no-one can really tell the difference.
Interior Cabinetry
Next week we will be visiting the second potential source for all of our built-ins and cabinetry.  We have to make a choice soon and get them started.
Stone & tile
Last week we visited a stone yard to look at several varieties of stone for our surfaces.  We've settled on a honed black soapstone for our kitchen counter tops with a marble island.
In the last few weeks we've met several times with our designers to narrow down the bathroom finishes – tile and such.  We are pretty close to having all that selected.